5 Reasons Why Michigan Won't Win The 2016 College Football Playoff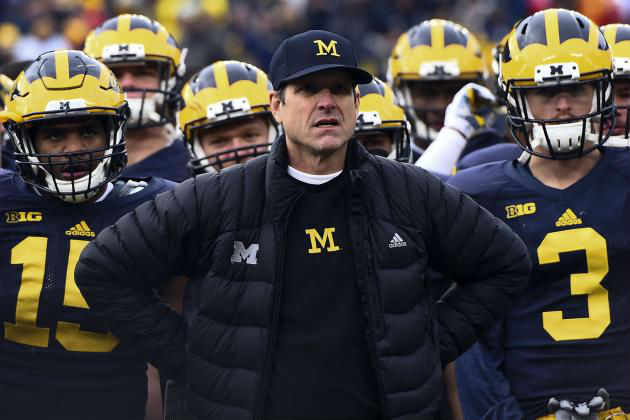 July 26th, 2016
On July 22, ESPN published an article that said Las Vegas casinos have taken more money on Michigan to win the College Football Playoff than any other team. The Wolverines are one of the favorites, paying out as little as 10-1 at some books. Michigan was a team that I faded in 2015, starting in Week 1 when they played the Utes in Utah. Here is what I said prior to that game: "While I don't doubt that Michigan will improve in 2015, I don't expect it to happen in Week 1 on the road against an experienced Utah team that beat them handily at home last year"
I am not buying the hype here this year either, and I think betting on Michigan to win it all is as good as throwing your money away. Here are five reasons why:
1. Not The Best Team In The BIG10 – Before you can win a national championship, you first have to qualify for the College Football Playoffs. In order to do that, you must win your conference. The Wolverines are far from guaranteed to win the BIG10 in 2016, it's the Buckeyes that are the odds on favorite to win the conference. Not only do they have to beat the Buckeyes, they have to do it on the road in Columbus.
2. Who's the Quarterback? – While the Buckeyes have a stud in J.T. Barrett, Michigan has five quarterbacks that have never taken a snap. They have Wilton Speight who was the backup for Jake Rudock and he completed a grand total of nine passes in five games last year. Their other choice could be John O'Korn a transfer from Houston who actually played in 2013-14 for the Cougars and completed 349 passes with 34 TDs and 18 picks over those two years but sat out all of 2015.

3. Strength of Schedule – While Jim Harbaugh completely turned this program around, going from 5-7 in 2014 to 10-3 last year, many of those wins came against cupcakes. Take a look at all 10 of those wins, and tell me which of them impress you the most. They needed overtime to get past the Indiana Hoosiers, and they won by just three points at Minnesota. When you look at some of the other contenders in the SEC, ACC, BIG12 or PAC12, their resume just doesn't compare.

4. Defense – Besides losing their starting quarterback, Michigan's vaunted defense has lost all of it's starting linebackers and have moved a safety to a linebacker position to fill the void. Teams like Alabama, Clemson and Florida State have most of their players returning this season. When it comes to recruiting, the Buckeyes coach Urban Meyer has stacked his team with superior talent that can only be rivaled by Nick Saban's squad.
5. Better Value On The Board – Even if you disagree with my first four reasons, the fact remains that you simply aren't getting a big enough payout to justify a bet on Michigan. For the same price you could Take Oklahoma, who boast a proven quarterback that is considered a serious contender for the Heisman. While the Hawkeyes and the Spartans may suffer a drop off from last season, they are each paying out close to 100-1. The fact that both teams finished ahead of Michigan in the conference last year says a lot.
---
Check out the Iceman's Premium Picks