Handicapping Myths 1.4 – Situational Handicapping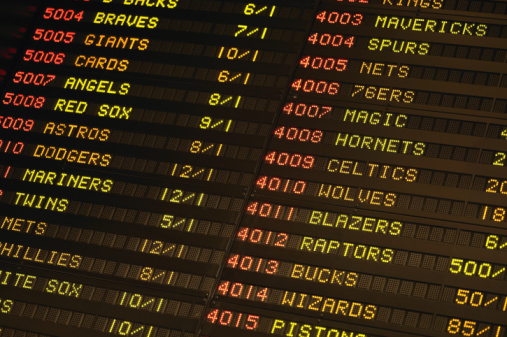 September 9th, 2013
The business of betting on sports is a tricky one, just when you think you have it all figured out, you realize that you have so much more to learn. As a professional gambler by trade, I have been involved in serious sports betting since I was a kid. At the age of 38, I'm still learning, constantly looking for a new angle, or a trend that had yet to be exploited. I believe this is absolutely necessary to be successful, because the industry is constantly changing, and what works today, may not work tomorrow. If you stop learning, you will eventually fall behind, becoming obsolete, just like anything else in this life.
One of the most common mistakes that gamblers make, is setting out rules and guidelines that only limit their ability to turn a profit. I'm a firm believer that rules are meant to be broken, and following strict guidelines will only prevent you from taking advantage of every available opportunity. In this series of articles, I will discuss some of the most common "myths" that are associated with sports handicapping.
Myth #4 – Situational Handicapping
There are no shortage of professional and amateur handicappers that believe in betting solely based on situations. A situational handicapper will look for teams that fit a certain category, which could be any of the following.
– Revenge Spot: when a team is looking to avenge a loss in the rematch against an opponent that defeated them earlier in the season.
– Schedule Spots: This could be a team playing on back to back nights in the NHL or NBA, or a team playing on a short week in football season. Often the two teams that play a Monday night game are thought to be at a disadvantage the following Sunday.
– Rivalries: There are those who believe that underdogs have a better chance to cover or even upset an opponent that is a division rival, or a team from the same city or state that is considered to be a rival.
– Home/Away: There are a variety of different home and away situations that bettors will pay close attention to. In a very general sense, it's considered sharp to play home dogs, and bet against road favorites.
– Ranked vs. Unranked: Many will look for certain situations involving ranked and unranked teams. I don't see too much sense in this, because the rankings change week to week, and I don't always agree with the rankings.
So the question is, which of these situations are "Junk Science", and which have actual value. The answer to both questions could be all or none. I believe that any one situation on it's own has absolutely no value, unless there are several other factors to back it up. For example, one of the most overrated situations is the "Revenge Factor".
When you really stop and think about it, you're betting on a team to defeat a team that it has already failed to beat earlier in the year. While there is no doubt that this may provide added motivation, that alone isn't enough. Before I would put any weight in a revenge situation, I would want to find some evidence that suggests the opposing team has reason to be more complacent, and less motivated. I also want to know who's injured or suspended, and how each team has played in recent games.
The most important factor of all, is almost always going to be the price. If the price isn't right, then nothing else really matters. I pay attention to situations, but they are only a very small part of my overall handicapping process. I think the idea that you can base your bets solely on situational handicapping, is completely and totally flawed.
If you have any questions, comments or anything to add to the subject, feel free to give me a shout on Facebook.
Good Luck,
Jesse Schule
---
Check out the Iceman's Premium Picks
Jesse Schule
HISTORY REPEATS ITSELF... - +$22,250 last 500 top rated premium picks. - +$38,810 last 1000 top rated premium picks. - +$47,370 last 1500 top rated premium picks.
Short-Term Subscription Options
---
---
---
---
Long-Term Subscription Options
---
---
---
---
---
---
---
---
---
---
---
Free picks
Game Details
Jan 24 '21, 12:00 PM in 13h
Soccer
| Liverpool vs Manchester United
Play on: Manchester United PK -110 at linepros
Game Analysis
This is a Free play on on MUTD.
Liverpool is struggling, failing to score a goal in four straight Premier League matches. Normally they are a brick wall at home at Anfield, but their last two home matches were a draw to United and a loss to Burnley. Now they face the Red Devils in the FA Cup, and a return to form seems unlikely for the defending champions. Manchester United has conceded just one goal over their last four matches, and the Red Devils have been the better team since Christmas.
GL,
Jesse Schule
Pick Released on Jan 22 at 12:58 pm
YESTERDAY'S PLAYS
PICKS IN PROGRESS
Jan 23 '21, 3:00 PM
Play Type: Premium Pick
Soccer
| Marseille vs AS Monaco
Play on: AS Monaco -117 at pinnacle [Won: $100]
Game Analysis
5*
Pick Released on Jan 23 at 02:21 am
Jan 23 '21, 3:00 PM
Play Type: Premium Pick
Soccer
| Newcastle United vs Aston Villa
Play on: Aston Villa -182 at pinnacle [Won: $100]
Game Analysis
This is a 5* play on Aston Villa.

So Villa has lost three straight matches, and they are coming off a 2-0 defeat at Manchester City. They are almost a 2-1 favorite in this afternoon's match versus Newcastle, but I still see value in the favorite here. Three consecutive losses were to be expected, as they came against Liverpool, United and City. Newcastle on the other hand has failed to score in four of their last five matches, and they are winless during that span. Villa has scored nearly twice as many goals (29) as Newcastle (18), and they have conceded roughly half as many.

GL,

Jesse Schule
Pick Released on Jan 23 at 12:09 am
Jan 23 '21, 12:00 PM
Play Type: Premium Pick
NCAA-B
| Kent State vs Toledo
Play on: OVER 154 -110 [Lost: -$110]
Game Analysis
This is in 8* play on Over.
The Rockets have averaged over 90 points per game in their last four, and they host Kent State in what should be a shootout. These two teams have gone over in four straight head to head meetings. The over is 7-1 in the Golden Flashes last eight games following a straight up win. Kent State has scored 80+ points in five straight. Both these teams are below average defensively, so it would be no suprise to see a similar score to the most recent meeting when Toldeo won by a score of 84-82 earlier this season.
GL,
Jesse Schule
Pick Released on Jan 22 at 11:50 pm
Jan 23 '21, 7:08 PM
Play Type: Premium Pick
NHL
| Canadiens vs Canucks
Play on: Canucks +1½ -180 at pinnacle
Game Analysis
This is a 6* play on Vancouver +1.5.
The Canucks will be a home underdog after a blowout loss to the Habs on Thursday. Thatcher Demko allowed seven goals on 42 shots in the loss, and he's 0-3 with a 5.47 GAA. We will expect to see Braden Holtby back between the pipes Saturday, and he's a far more respectable 2-1 with a 3.58 GAA. The Canucks should have a chance to execute a little revenge after being embarrassed in their last game.
GL,
Jesse Schule
Pick Released on Jan 22 at 06:24 pm
Jan 23 '21, 10:08 PM
Play Type: Premium Pick
Play on: Jets -150 at Draft Kings
Game Analysis
This is an 8* play on Winnipeg.
The Jets are coming off back to back wins in Ottawa, and they return home for a third consecutive game against the Senators. The Sens have struggled against the Jets dating back the last few years. The Jets have won eight of the last 10 head to head meetings. The Senators are 11-40 in their last 51 games as a road underdog, and they have lost six straight in the second game of a home and home series. Connor Hellebuyck is the reigning Vezina winner, and he looked sharp in a 4-1 win over the Senators in his last start. He is expected to be back between the pipes Saturday.
GL,
Jesse Schule
Pick Released on Jan 22 at 06:22 pm
SERVICE BIO
WHO IS THE ICEMAN? He's no soothsayer and he doesn't have a crystal ball, but Jesse Schule can indeed predict the future. As a professional handicapper, it's actually part of his job description. His clients have accused him of secretly possessing Marty McFly's Sports Almanac, but he tells us the secret to his success is thanks in part to his fascination with history. The idea that you can predict the future by studying the past is nothing new. Historians have been doing it for years.
Career Highlights:
- Perfect 5-0 Super Bowl Card (2018)
- Perfect 6-0 NBA Finals Futures (2017)
- Perfect 3-0 NBA Finals Futures (2019)
- Perfect 3-0 NBA Finals Futures (2020)
- Perfect 8-0 card X-Mas Day (2016)
- Perfect 8-0 NCAA Tourney picks Sweet 16 - Final (2015)
- Picked Germany +$700 to win World Cup (2014)
- Picked Marcus Mariota +$700 to win Heisman (2014)
Handicapping Methodology: Jesse is not a believer in systems, programs or number crunching formulas to handicap games. He is firm in his belief that you aren't playing against the sportsbook, you are playing against the average Joe (other bettors). Jesse is notorious for attacking inflated point spreads, soft lines and totals that are a little out of whack. He also relies on a nearly photographic memory with an uncanny ability to tell you a player's history and stats dating back for decades. Anyone can look up how many touchdowns a guy has scored, Jesse can also tell you about the ones that he almost scored.
Money Management: His plays are rated based on a 5-10 star system, and he recommends wagering 0.2 percent of your bankroll per star rating. So a top rated 10* play would represent a bet equal to two percent of a player's bankroll.
Signature Plays:
AFTERNOON EXECUTIONER: This title is reserved for games with a start time between 12:00 – 4:30 ET. These are popular with action junkies who are dying for the games to get underway.
The TERMINATOR: Jesse's signature totals play, the Terminator has established a reputation as one of the most consistent winners in Schule's repertoire.
TOO GOOD TO BE TRUE: These plays represent a game where the stats show a significant trend which isn't reflected in the price.
GRIM REAPER BLOWOUT: His signature play reserved for medium to large favorites. High percentage plays for those who don't mind laying chalk.
HOT DIGGITY DOG: This is the Iceman's signature underdog play. About as rare as strawberries in December, you'll want to grab these whenever they are available
---