Jacob Panetta vs Jordan Subban, Racism or Another Hoax?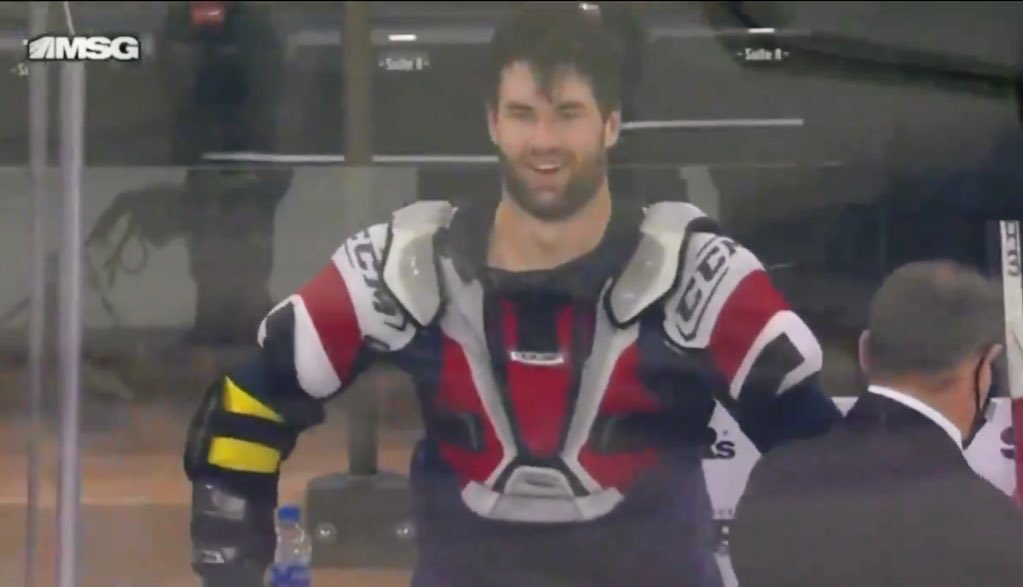 Jacob Panetta vs Jordan Subban, Racism or Another Hoax?
This past weekend a fight in the ECHL resulted in accusations of a racial gesture, leading to the indefinite suspension of Jacob Panetta. In the aftermath of a fight, Panetta was accused of making a racial gesture (simulating a monkey) directed toward Jordan Subban, the brother of NHL star P.K. Subban. This story is blowing up on social media, and before we have had a chance to evaluate all the facts, the mainstream media has acted like judge, jury and executioner.
Panetta has since been cancelled, unpersoned in Orwellian fashion. If he's guilty then he deserves everything coming his way, there's no place for racism in society or in sport. The problem is that the story has taken on a life of it's own. Headlines offer no nuance, but rather a condemnation based on little to no evidence. The video of the incident widely shared on social media comes with a caption: "Panetta can be seen taunting Subban and making a 'monkey gesture' towards his opponent."
This is a common tactic used by mainstream media to influence viewers. Rather than show you the evidence and let you decide what you see, they instruct you on what you are about to see. This is highly effective, but the power of suggestion doesn't work on everyone. I've watched the video a dozen times, and I know what I see and what I don't see. I see a gesture, and I don't see any evidence it has anything to do with race.
Panetta claims that puffing out his chest and spreading his arms in a "peacock like" pose was impersonating a "tough guy", not a monkey. This seems quite plausible, especially for those of us who have been in our share of fights. Mocking your opponent in a fight is as common as celebrating when you score a goal. NHL bad boy Tom Wilson of the Washington Capitals is known to make a similar gesture when things get heated on the ice. That hasn't stopped Wilson from issuing a statement condemning Panetta.
So I don't know whether Panetta is guilty or not, but since I am in the business of making educated guesses, I am going to take a stab at it. Let me refer to Occam's razor (The simplest answer is usually the correct one). The idea that a professional athlete would mock an African American opponent with a monkey gesture while on live TV, knowing that it would surely result in severe punishment, seems less likely than the story offered by Panetta. Both Tom Wilson and Jacob Pannetta have been filmed directing this type of gesture towards Caucasian opponents during games.
Historical Precedents
I will also cite historical precedent. There have been several stories that turned out to be outright hoaxes, including the Duke Lacrosse Scandal in 2006, and the Jussie Smollett story in 2019. More recently there were a few high profile cases that would be better described as misunderstandings. An FBI investigation proved that a noose found in the garage of Bubba Wallace at Talladega was actually just a rope that had been in the same spot months prior. Wallace didn't seem convinced when he issued a statement on the FBI's findings: "It was a noose that, whether tied in 2019 or whatever, it was a noose," Wallace said. "It wasn't directed at me, but somebody tied a noose, that's what I'm saying. It is a noose." In August of 2021 the Colorado Rockies issued a statement condemning a fan who had allegedly shouted the n-word at Marlins outfielder Lewis Brinson. The story was blasted all over the major networks, but a few days later video evidence proved that the fan was shouting the name of the Rockies mascot "Dinger". Brinson's comments after the investigation suggest he was not convinced: "All I know is that, in my opinion, it sounds a lot like the n-word. But I'm not that fan. I don't know what he said,"
My take is that Panetta is more likely a victim of a misunderstanding than he is the perpetrator of a racial attack. I think we should all hope that is the case, because we are better off living in a world less divided. I hope I am correct, but if I am wrong then let me be the first to cast a stone in his direction.
---
Win Big with Jesse Schule's Premium Picks
Jesse Schule
The Iceman's 9-1 start to the MLB season in 2022 was overshadowed by his PERFECT 10-0 start to the NFL season, and his 22-3 (88%) start with college football. Keep in mind .. HISTORY REPEATS ITSELF!
Short-Term Subscription Options
---
---
---
---
---
Long-Term Subscription Options
---
---
---
---
---
---
---
---
---
---
---
---
---
---
---
---
YESTERDAY'S PLAYS
| Match Up | Pick | Rating | Score | Result | Profit | Analysis |
| --- | --- | --- | --- | --- | --- | --- |
| Clemson vs Syracuse | Syracuse +7 -105 | Free | 31-14 | Loss | -105 | Show |
| Luton Town vs Everton | Everton -160 | Premium | 2-1 | Loss | -160 | Show |
| South Carolina vs Tennessee | Tennessee -11½ -110 | Top Premium | 20-41 | Win | 100 | Show |
| South Florida vs Navy | UNDER 53½ -110 | Premium | 44-30 | Loss | -110 | Show |
| Washington vs Arizona | OVER 68½ -110 | Premium | 31-24 | Loss | -110 | Show |
| Alabama vs Mississippi State | UNDER 49 -110 | Premium | 40-17 | Loss | -110 | Show |
PICKS IN PROGRESS
Oct 01 '23, 3:10 PM
Play Type: Premium Pick
MLB
| Padres vs White Sox
Play on: Padres -155 at Ace
Game Analysis
This is a 4* play on the Padres.
A strong finish will be too little, too late for the Padres, but they look to wrap up with a win in Chicago in their final game of the season. They come in as winners of 13 of their last 15 overall.
Jose Urena will toe the slab for Chicago, and he hasn't pitched in a win this season. Urena is 0-3 with a 5.31 ERA in his time with Chicago, and his team has lost in every one of his 13 appearances this season.
The Padres hand the ball to 26 year old Pedro Avila, who is 2-2 with a 3.57 ERA in 13 appearances.
The Friars bats have been hot at the end of the year.
GL,
Jesse Schule
Pick Released on Oct 01 at 01:58 am
Oct 01 '23, 1:00 PM
Play Type: Premium Pick
Play on: Bills -140 at Ace
Game Analysis
This is a 4* play on BUF.
The Dolphins scored 70 in a home win over Denver last Sunday, but that might set them up for a let down here on the road at Buffalo. Remember it was a game against Buffalo last season that when Tua took a hit that sent the team in a downward spiral for the rest of the season. That will give him something to think about. The Fish have lost six straight at Buffalo, and nine of their last 10 versus the Bills. Josh Allen threw for 304 yards and 4 TDs on 25-of-40 passing in a home win over Miami last year.
GL,
Jesse Schule
Pick Released on Sep 25 at 05:50 am
Oct 01 '23, 1:00 PM
Play Type: Premium Pick
Play on: Browns -140 at circa
Game Analysis
This is a 4* play on CLE.
The Browns are 2-1, and they probably should have beaten Pittsburgh on Monday Night Football in Week 2. The loss of Nick Chubb is going to hurt, but Kareem Hunt looked good in last week's win over Tennessee. He should play a bigger role moving forward. The defense has held opponents to just six points in two home games. Baltimore comes in with several key injuries on offense, and the Ravens lost 13-3 at Cleveland last December. We expect a similar outcome here in this game.
GL,
Jesse Schule
Pick Released on Sep 25 at 05:47 am
SERVICE BIO
WHO IS THE ICEMAN? He's no soothsayer and he doesn't have a crystal ball, but Jesse Schule can indeed predict the future. As a professional handicapper, it's actually part of his job description. His clients have accused him of secretly possessing Marty McFly's Sports Almanac, but he tells us the secret to his success is thanks in part to his fascination with history. The idea that you can predict the future by studying the past is nothing new. Historians have been doing it for years.
Career Highlights:
- Perfect 10-0 start to NFL Season (2022)
- Perfect 5-0 Super Bowl Card (2018)
- Perfect 6-0 NBA Finals Futures (2017)
- Perfect 3-0 NBA Finals Futures (2019)
- Perfect 3-0 NBA Finals Futures (2020)
- Perfect 8-0 card X-Mas Day (2016)
- Perfect 8-0 NCAA Tourney picks Sweet 16 - Final (2015)
- Picked Germany +$700 to win World Cup (2014)
- Picked Marcus Mariota +$700 to win Heisman (2014)
Handicapping Methodology: Jesse is not a believer in systems, programs or number crunching formulas to handicap games. He is firm in his belief that you aren't playing against the sportsbook, you are playing against the average Joe (other bettors). Jesse is notorious for attacking inflated point spreads, soft lines and totals that are a little out of whack. He also relies on a nearly photographic memory with an uncanny ability to tell you a player's history and stats dating back for decades. Anyone can look up how many touchdowns a guy has scored, Jesse can also tell you about the ones that he almost scored.
Money Management: His plays are rated based on a 1-10 star system, and he recommends wagering 0.5 percent of your bankroll per star rating. So a top rated 10* play would represent a bet equal to five percent of a player's bankroll.
Signature Plays:
AFTERNOON EXECUTIONER: This title is reserved for games with a start time between 12:00 – 4:30 ET. These are popular with action junkies who are dying for the games to get underway.
The TERMINATOR: Jesse's signature totals play, the Terminator has established a reputation as one of the most consistent winners in Schule's repertoire.
TOO GOOD TO BE TRUE: These plays represent a game where the stats show a significant trend which isn't reflected in the price.
GRIM REAPER BLOWOUT: His signature play reserved for medium to large favorites. High percentage plays for those who don't mind laying chalk.
HOT DIGGITY DOG: This is the Iceman's signature underdog play. About as rare as strawberries in December, you'll want to grab these whenever they are available
---