LeBron James – A Legacy Of Lies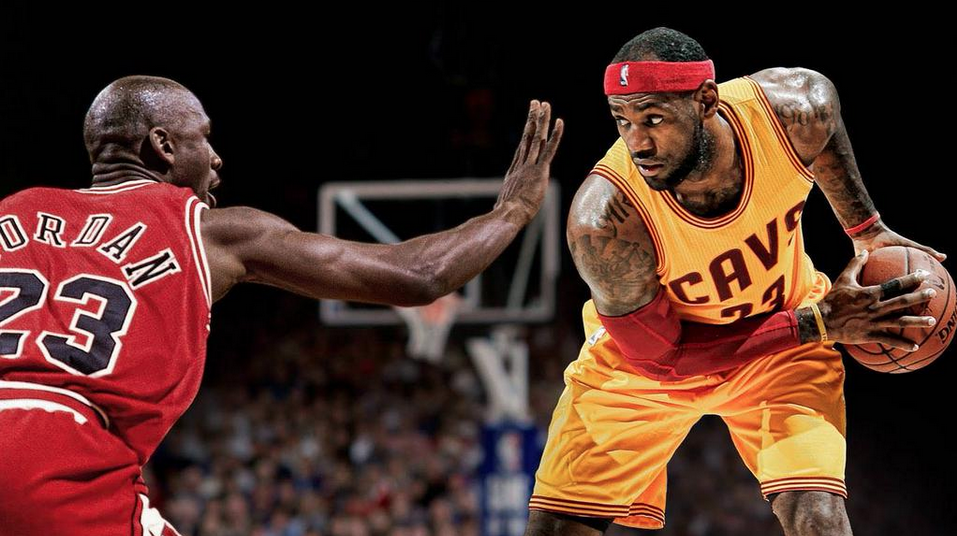 LeBron James – A Legacy Of Lies
Since the Cavs dramatically came back from a 3-1 series deficit to beat the Warriors in the 2016 NBA Finals, LeBron's legacy has been a hot topic. The LeBron James versus Michael Jordan debate raged during the 2017 NBA Finals, and even after the Cavs lost in five games, there are those who still think there's a case for LeBron to be the G.O.A.T.
I am here to tell you beyond any shadow of a doubt, these people are lying to you, lying to me, and in some cases lying to themselves. They might try to fool you with a few cherry picked stats, like Colin Cowherd did the morning after the Warriors series clinching victory in Game 5. Colin says that averaging a triple-double in the Finals, and filling the box score with more rebounds and assists, somehow makes LeBron better than Jordan.
He goes on to say: "Congrats on the 6-0 argument, because every other metric favors LeBron". Now that statement right there is completely laughable. Perhaps Colin was a poor student in school, because he doesn't seem to know about something called scientific control (eliminating variables from experiments). So when Colin talks about stats in today's NBA, he fails to realize that these stats are useless if the conditions in today's NBA are different than they were in the past.
The last time Jordan played in the Finals, his Bulls scored an average of 87.8 points in a 4-2 series win over the Jazz. He averaged 32.3 points per game in the series. LeBron's Cavs scored an average of 114.8 points in this year's Finals, that's almost 25 percent more scoring overall. That means more points, more shots, more rebounds and assists to go around. Times have changed, the rules have changed. Scoring is up, and any comparison of today's stats to the 80s and 90s is like comparing apples and oranges.
That being said, I still believe that if you take the time to analyze all the stats, Jordan still comes out on top. He's a six time Finals MVP, 10 time scoring champion, and he averaged a record 33.4 points per game in the playoffs.
Let's forget about the stats for second though, and let's ask ourselves why so many people are trying so desperately to make a case for LeBron. The answer is simple, it's human nature. People want to believe that they are witnessing greatness (and they really are). LeBron won't go down as the best ever, but he'll be near the top. Perhaps the most intelligent thing Charles Barkley said during these NBA Finals: "If LeBron beats the Warriors, I might put him level with Kobe".
This isn't the first time I've seen the media try to sell an athlete as the greatest of all time. When I was a teenager in the late 80s and early 90s, the sports world was almost evenly split on the debate over the best hockey player of all time. Wayne Gretzky was coming to the end of his career, and Mario Lemieux was making a strong push as the new face of the game. Now 25 years later, you'll struggle to find anyone who doesn't believe Gretzky is the G.O.A.T.
We see it almost every year in Major League Baseball, when a young player jumps out to a hot start. In 2013 it was Yasiel Puig, who just two years later was back in the minors. Last year it was Trevor Story, who broke the rookie home run record in the National League. So far this year he's barely batting over the Mendoza Line, and has just eight home runs in 52 games.
Now LeBron James is more than just hype, he is and will always be a Legend. He will never be Michael Jordan, who's grip on the title of G.O.A.T is as firm as it's ever been.
---
Win Big with Jesse Schule's Premium Picks
Jesse Schule
The Iceman's 9-1 start to the MLB season in 2022 was overshadowed by his PERFECT 10-0 start to the NFL season, and his 22-3 (88%) start with college football. Keep in mind .. HISTORY REPEATS ITSELF!
Short-Term Subscription Options
---
---
---
---
---
Long-Term Subscription Options
---
---
---
---
---
---
---
---
---
---
YESTERDAY'S PLAYS
| Match Up | Pick | Rating | Score | Result | Profit | Analysis |
| --- | --- | --- | --- | --- | --- | --- |
| Wings vs Sky | Wings +3½ -110 | Premium | 88-94 | Loss | -110 | Show |
| AFC Bournemouth vs Everton | Everton -180 | Premium | 0-1 | Win | 100 | Show |
| West Ham United vs Leicester | Leicester -107 | Free | 1-2 | Win | 100 | Show |
| Nationals vs Royals | Nationals -104 | Premium | 2-3 | Loss | -104 | Show |
| Reds vs Cubs | Cubs -150 | Premium | 8-5 | Loss | -150 | Show |
| Rangers vs Orioles | Orioles -142 | Premium | 2-3 | Win | 100 | Show |
PICKS IN PROGRESS
May 29 '23, 4:10 PM
Play Type: Premium Pick
Play on: Twins +1½ -185 at SC Consensus
Game Analysis
This is a 4* play on MIN.
Houston will be the favorite with a rookie pitcher on the mound in Game 1, but I like the Twins as the underdog.
J.P. France makes just his second start in Houston, and in his home debut he allowed six runs on nine hits and two walks in 3 2/3 innings versus the Cubs.
The Twins hand the ball to Sonny Gray, who hasn't lost yet this season. He's 4-0 with a 1.82 ERA and a WHIP of 1.20.
The Twins are 8-2 ATS in Gray's 10 starts this season.
GL,
Jesse Schule
Pick Released on May 29 at 01:41 am
May 29 '23, 1:05 PM
Play Type: Premium Pick
MLB
| Guardians vs Orioles
Play on: Orioles -138 at BetVegas [Lost: -$138]
Game Analysis
This is a 4* play on BAL.
The Orioles have picked up right where they left off last year, and they are in second in the AL East four games behind Tampa.
Tyler Wells will toe the slab for Baltimore, and he's 2-1 with a 2.64 ERA in five home starts. He's facing a Cleveland team that ranks dead last in MLB in runs scored.
The Guardians will hand the ball to Logan Allen, who boasts an ERA of 3.31. Don't let that fool you though, he's allowed at least eight base runners in each of his last four starts, and owns a WHIP of 1.44.
The Guardians are 1-7 in their last eight road games.
GL,
Jesse Schule
Pick Released on May 29 at 01:37 am
May 29 '23, 1:10 PM
Play Type: Premium Pick
Play on: Rangers -163 at circa [Won: $100]
Game Analysis
This is a 4* play on Texas.
The Rangers have won 12 of their last 17 overall, and they still sit in first place in the AL West. They appear to have a favorable matchup in Game 1 in Detroit.
Nate Eovaldi will toe the rubber for the Rangers, and he's been dealing in 2023. He went the distance in a win at Pittsburgh in his last start, and he's 4-1 with a 1.66 ERA in six road starts.
The Tigers hand the ball to Matthew Boyd, who has struggled at home. He's 0-3 with an 8.64 ERA in four home starts. He failed to make it out of the second inning, getting torched for six runs in a loss to Seattle in his last start in Detroit.
The Rangers are 6-0 in their last six games following a loss.
GL,
Jesse Schule
Pick Released on May 29 at 01:36 am
SERVICE BIO
WHO IS THE ICEMAN? He's no soothsayer and he doesn't have a crystal ball, but Jesse Schule can indeed predict the future. As a professional handicapper, it's actually part of his job description. His clients have accused him of secretly possessing Marty McFly's Sports Almanac, but he tells us the secret to his success is thanks in part to his fascination with history. The idea that you can predict the future by studying the past is nothing new. Historians have been doing it for years.
Career Highlights:
- Perfect 5-0 Super Bowl Card (2018)
- Perfect 6-0 NBA Finals Futures (2017)
- Perfect 3-0 NBA Finals Futures (2019)
- Perfect 3-0 NBA Finals Futures (2020)
- Perfect 8-0 card X-Mas Day (2016)
- Perfect 8-0 NCAA Tourney picks Sweet 16 - Final (2015)
- Picked Germany +$700 to win World Cup (2014)
- Picked Marcus Mariota +$700 to win Heisman (2014)
Handicapping Methodology: Jesse is not a believer in systems, programs or number crunching formulas to handicap games. He is firm in his belief that you aren't playing against the sportsbook, you are playing against the average Joe (other bettors). Jesse is notorious for attacking inflated point spreads, soft lines and totals that are a little out of whack. He also relies on a nearly photographic memory with an uncanny ability to tell you a player's history and stats dating back for decades. Anyone can look up how many touchdowns a guy has scored, Jesse can also tell you about the ones that he almost scored.
Money Management: His plays are rated based on a 5-10 star system, and he recommends wagering 0.2 percent of your bankroll per star rating. So a top rated 10* play would represent a bet equal to two percent of a player's bankroll.
Signature Plays:
AFTERNOON EXECUTIONER: This title is reserved for games with a start time between 12:00 – 4:30 ET. These are popular with action junkies who are dying for the games to get underway.
The TERMINATOR: Jesse's signature totals play, the Terminator has established a reputation as one of the most consistent winners in Schule's repertoire.
TOO GOOD TO BE TRUE: These plays represent a game where the stats show a significant trend which isn't reflected in the price.
GRIM REAPER BLOWOUT: His signature play reserved for medium to large favorites. High percentage plays for those who don't mind laying chalk.
HOT DIGGITY DOG: This is the Iceman's signature underdog play. About as rare as strawberries in December, you'll want to grab these whenever they are available
---