Oh How The Mighty Have Fallen – The Demise of Ronda Rousey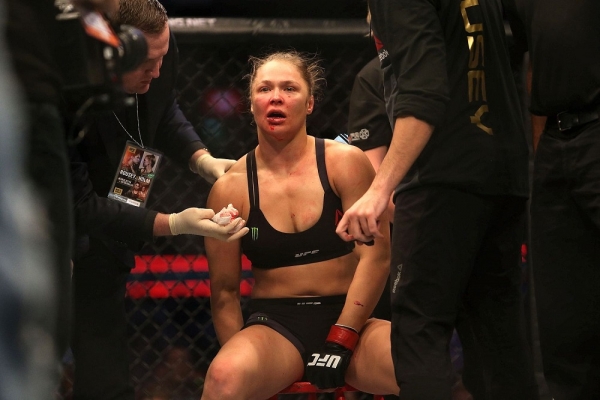 July 25th, 2016
When ESPN named Ronda Rousey the Female Athlete of the Year in 2015, I compared her lifetime achievements to those of Joey Chestnut. For those of you who are not familiar with Joey Chestnut, he's a nine-time champion at the Nathan's Famous Hot Dog Eating Contest. While it might not seem rational to compare competitive eating to women's MMA, it actually makes more sense than comparing Ronda Rousey to the likes of Serena Williams or Lindsay Vonn.
When you look at the numbers of women and girls around the world that compete in sports like tennis, skiing, golf, soccer and basketball, and compare them to the numbers of female MMA fighters, the comparison to competitive eating is quite fair. Serena Williams might be the best female tennis player of all time, putting her ahead of millions of competitors. Ronda Rousey was nothing more than a big fish in a small pond.
I've always been skeptical of the media circus that surrounded Rousey during her reign as the UFC women's champion, so when she lost to Holly Holm last November, I wasn't at all surprised. I had been saying all along that there would be somebody who would prove to be tougher than the mighty Ronda Rousey, but I could never have predicted what has happened since.
Rousey's loss to Holly Holm in November of last year was a nightmare for Dana White and the UFC. His most marketable fighter was humbled by a frail looking blonde girl that few had ever heard of. Rousey was an emotional train wreck after the fight, and the media darling went into self imposed exile. Things went from bad to worse when Holm followed up her win over Rousey by losing to Meisha Tate.
At least Rousey could take some solace in the fact that she has already beaten Tate twice. Holm's loss to Valentina Shevchenko in July has upset the apple cart even further though, leaving us wondering what's next for Rousey.
At this point, she's got more to lose than she has to gain in a rematch versus Holly Holm. It seems crystal clear that the only thing that can save Ronda Rousey's career would be a fight versus Cris Cyborg Santos. It would also likely be the fight that ends her career, and exposes once and for all that she was never as good as advertised.
---
Check out the Iceman's Premium Picks