Ryan Lochte Lied About Being Robbed In Rio – That's A Fact!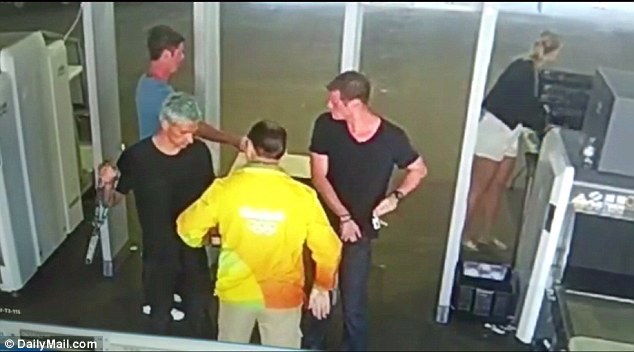 August 18th, 2016
The Brazilian authorities have come under fire after pulling American swimmers Jack Conger and Gunnar Bentz off a plane in Rio Wednesday. Some mainstream media outlets have even suggested that the Brazilians are trying to cover up a crime, in order to preserve their country's image. The fact is, there is a mountain of evidence that proves beyond a shadow of a doubt that the American swimmers provided false testimony.
This is what we do know:
1: Lochte gives an interview with NBC (see link here): He says: "we got pulled over in our taxi, and these guys came out with a badge and a gun." "No lights, no nothing, just a badge." "The guy pulled out his gun, he cocked it, and put it to my forehead." "He took our money, he took my wallet."
2: Surveillance video shows the swimmers returning the Olympic Village just before 7:00 AM: The footage not only shows that the men appeared to be in remarkably good spirits (obviously intoxicated), they all appear to have their wallets and phones in their possession. The same wallets and phones that they claimed were stolen.
3: Lochte gives a second interview with NBC: In a telephone interview with Matt Lauer, Lochte says the robbery took place at a gas station just as they entered the taxi (he previously said the cab had been pulled over). He also said the gun was pointed in his general direction, rather than pressed to his forehead as per his original account.
4: Brazilian police seize surveillance tapes from the gas station: The gas station manager Lucas Alvez told the Daily Mail that he reviewed the tapes before the police arrived, and there was no footage of the American swimmers.
While these bizarre inconsistencies don't prove that the robbery didn't take place, it is clear that if there was a holdup, it didn't go down like Lochte and the boys say it did. Those who rush to defend Lochte, have been quick to say: "why would anyone make up such an elaborate story?" Now there are some clues as to what a motive for such a hoax might be.
Imagine going out in Rio, a city notorious for it's brothels, while your girlfriend and your mother are staying in a nearby hotel. That's right, Kayla Rae was waiting up at the hotel, and surely she wanted an explanation why he didn't arrive until 7:00 AM? Fighting legend Renzo Gracie has publicly claimed to have knowledge that Lochte came up with the story to avoid a fight with Kayla.
This amounts to nothing more than "he said, she said", but it's perhaps more plausible than a robber who didn't take any wallets or phones. If the boys really were out at a brothel, they should have just used the same story as the USA men's basketball team: "OOPS!", "we had no idea this wasn't a day spa."
---
Check out the Iceman's Premium Picks
Jesse Schule
HISTORY REPEATS ITSELF... - +$22,250 last 500 top rated premium picks. - +$38,810 last 1000 top rated premium picks. - +$47,370 last 1500 top rated premium picks.
Short-Term Subscription Options
---
---
---
---
Long-Term Subscription Options
---
---
---
---
---
---
---
---
---
---
---
YESTERDAY'S PLAYS
PICKS IN PROGRESS
Jan 18 '21, 8:08 PM
Play Type: Premium Pick
Play on: Blues -175 at Mirage
Game Analysis
This is a 6* play on the Blues.
St. Louis won their season opener at Colorado, but they were blown out by a score of 8-0 in their second game against the Avs. They won't like the stink of that embarrassing loss, and that will add a little extra motivation to beat up on an inferior San Jose team. The Sharks are 1-6 in their last seven road games, and they are 17-35 in their last 52 games as an underdog. The Sharks are 3-9 in their last 12 games playing on 1 days rest, and they have lost five straight against the Blues.
GL,
Jesse Schule
Pick Released on Jan 18 at 12:54 am
Jan 18 '21, 9:08 PM
Play Type: Premium Pick
Play on: Canucks +1½ -190 at pinnacle
Game Analysis
This is a 5* play on Van +1.5.
I had the Canucks in their last game against the Flames, and they lost 3-0. I expect a better effort here tonight. This is what I said prior to the last game: "The Canucks got themselves a veteran goaltender this off-season, and some might consider Braden Holtby an upgrade from Jacob Markstrom. Holtby got the win in the Canucks season opener, stopping 28-of-31 shots against the Oilers. Markstrom was on the losing end of a 4-3 overtime loss at Winnipeg. The Canucks are 8-3 in their last 11 road games, and I like their chances of getting the best of their former netminder."
GL,
Jesse Schule
Pick Released on Jan 17 at 11:45 pm
Jan 18 '21, 7:00 PM
Play Type: Premium Pick
NCAA-B
| Florida State vs Louisville
Play on: Louisville -125 at Draft Kings
Game Analysis
This is an 8* play on Louisville.
Louisville is coming off it's first loss in conference play on the road at Miami, and they are back home to host Florida State on Monday. The Seminoles aren't quite as formidable as they were a year ago when they finished first in the ACC, but they are just a half game back in the conference standings. Louisville is 23-1 in 24 home games since the beginning of last season, and I like their chances of adding to that total. The Seminoles have only played once on the road this season, losing to Clemson. This spread should be 3-4 points higher than it is.
GL,
Jesse Schule
Pick Released on Jan 17 at 11:44 pm
Jan 18 '21, 2:38 PM
Play Type: Premium Pick
Play on: Hawks -7½ -110 at pinnacle [Won: $100]
Game Analysis
This is an 8* play on the Atlanta Hawks.
The Minnesota Timbewolves are 3-8 overall, and six of their eight losses have come by double digits. Karl Anthony Towns has only played four games, and they are 2-2 when he plays. He's tested positive for Covid-19 and will not play Monday in Atlanta. The Timberwolves are 12-26 ATS in their last 38 games overall, and they are 1-4-1 ATS in their last six versus the Hawks. Atlanta won it's last home game by a score of 112-94 versus Philly. They should be able to lay a similar beating on a short-handed T-Wolves team.
GL,
Jesse Schule
Pick Released on Jan 17 at 10:16 pm
Jan 18 '21, 12:08 PM
Play Type: Premium Pick
NHL
| Blue Jackets vs Red Wings
Play on: Red Wings +1½ -173 at pinnacle [Won: $100]
Game Analysis
This is a 6* play on the Wings +1.5.
The Red Wings are obviously a young team in the middle of a rebuild, and it might be a few years before they can call themselves a contender. They have to be happy after splitting their first two games at home versus the Carolina Hurricanes. They host rivals Columbus on Monday afternoon, and six of the last 10 head to head meetings have been decided by just one goal. The Blue Jackets are 0-2 after losing both their games at Nashville. The Blue Jackets are 7-20 in their last 27 overall, and they had the most OT losses in the NHL last season.
GL,
Jesse Schule
Pick Released on Jan 17 at 08:25 pm
Jan 18 '21, 7:08 PM
Play Type: Premium Pick
NHL
| Jets vs Maple Leafs
Play on: Jets +1½ -170 at linepros
Game Analysis
This is a 5* play on the Winnipeg Jets +1.5.
The Toronto Maple Leafs are the favorite to win the North Division, but Winnipeg is still a contender. They have a veteran lineup and a Vezina winning goaltender. The Jets won their season opener in overtime against Calgary. The Jets have won two of their last three versus Toronto, and both of those wins came in games decided by one goal. The Leafs have lost five straight coming off a win, and they are 4-14 in their last 18 in the third game of a 3-in-4 situation.The road team has won five of the last six meetings between these teams. \
GL,
Jesse Schule
Pick Released on Jan 17 at 08:18 pm
Jan 18 '21, 7:38 PM
Play Type: Premium Pick
Play on: Sabres +1½ -165 at linepros
Game Analysis
This is a 6* play on the Sabres +1.5.
Buffalo is off to an 0-2 start, losing back to back games to the Washington Capitals. The Flyers are off to a 2-0 start, winning back to back games against the Penguins. It's understandable that Philly is a heavy favorite, but I think the Sabres are going to be competitive here. The under is 4-1-1 in the Sabres last six games as an underdog, and they have gone under in four of their last five overall. This should be a close game that could go either way.
GL,
Jesse Schule
Pick Released on Jan 17 at 08:18 pm
SERVICE BIO
WHO IS THE ICEMAN? He's no soothsayer and he doesn't have a crystal ball, but Jesse Schule can indeed predict the future. As a professional handicapper, it's actually part of his job description. His clients have accused him of secretly possessing Marty McFly's Sports Almanac, but he tells us the secret to his success is thanks in part to his fascination with history. The idea that you can predict the future by studying the past is nothing new. Historians have been doing it for years.
Career Highlights:
- Perfect 5-0 Super Bowl Card (2018)
- Perfect 6-0 NBA Finals Futures (2017)
- Perfect 3-0 NBA Finals Futures (2019)
- Perfect 3-0 NBA Finals Futures (2020)
- Perfect 8-0 card X-Mas Day (2016)
- Perfect 8-0 NCAA Tourney picks Sweet 16 - Final (2015)
- Picked Germany +$700 to win World Cup (2014)
- Picked Marcus Mariota +$700 to win Heisman (2014)
Handicapping Methodology: Jesse is not a believer in systems, programs or number crunching formulas to handicap games. He is firm in his belief that you aren't playing against the sportsbook, you are playing against the average Joe (other bettors). Jesse is notorious for attacking inflated point spreads, soft lines and totals that are a little out of whack. He also relies on a nearly photographic memory with an uncanny ability to tell you a player's history and stats dating back for decades. Anyone can look up how many touchdowns a guy has scored, Jesse can also tell you about the ones that he almost scored.
Money Management: His plays are rated based on a 5-10 star system, and he recommends wagering 0.2 percent of your bankroll per star rating. So a top rated 10* play would represent a bet equal to two percent of a player's bankroll.
Signature Plays:
AFTERNOON EXECUTIONER: This title is reserved for games with a start time between 12:00 – 4:30 ET. These are popular with action junkies who are dying for the games to get underway.
The TERMINATOR: Jesse's signature totals play, the Terminator has established a reputation as one of the most consistent winners in Schule's repertoire.
TOO GOOD TO BE TRUE: These plays represent a game where the stats show a significant trend which isn't reflected in the price.
GRIM REAPER BLOWOUT: His signature play reserved for medium to large favorites. High percentage plays for those who don't mind laying chalk.
HOT DIGGITY DOG: This is the Iceman's signature underdog play. About as rare as strawberries in December, you'll want to grab these whenever they are available
---