Ryan Lochte Lied About Being Robbed In Rio – That's A Fact!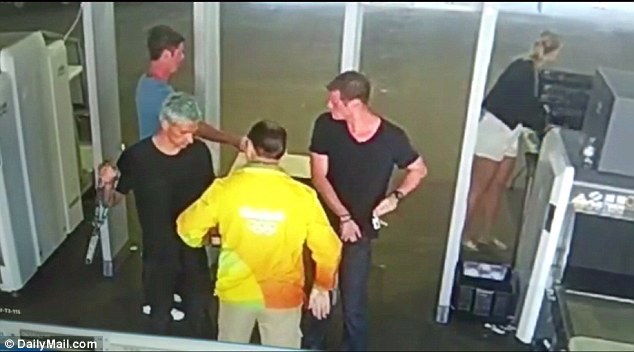 August 18th, 2016
The Brazilian authorities have come under fire after pulling American swimmers Jack Conger and Gunnar Bentz off a plane in Rio Wednesday. Some mainstream media outlets have even suggested that the Brazilians are trying to cover up a crime, in order to preserve their country's image. The fact is, there is a mountain of evidence that proves beyond a shadow of a doubt that the American swimmers provided false testimony.
This is what we do know:
1: Lochte gives an interview with NBC (see link here): He says: "we got pulled over in our taxi, and these guys came out with a badge and a gun." "No lights, no nothing, just a badge." "The guy pulled out his gun, he cocked it, and put it to my forehead." "He took our money, he took my wallet."
2: Surveillance video shows the swimmers returning the Olympic Village just before 7:00 AM: The footage not only shows that the men appeared to be in remarkably good spirits (obviously intoxicated), they all appear to have their wallets and phones in their possession. The same wallets and phones that they claimed were stolen.
3: Lochte gives a second interview with NBC: In a telephone interview with Matt Lauer, Lochte says the robbery took place at a gas station just as they entered the taxi (he previously said the cab had been pulled over). He also said the gun was pointed in his general direction, rather than pressed to his forehead as per his original account.
4: Brazilian police seize surveillance tapes from the gas station: The gas station manager Lucas Alvez told the Daily Mail that he reviewed the tapes before the police arrived, and there was no footage of the American swimmers.
While these bizarre inconsistencies don't prove that the robbery didn't take place, it is clear that if there was a holdup, it didn't go down like Lochte and the boys say it did. Those who rush to defend Lochte, have been quick to say: "why would anyone make up such an elaborate story?" Now there are some clues as to what a motive for such a hoax might be.
Imagine going out in Rio, a city notorious for it's brothels, while your girlfriend and your mother are staying in a nearby hotel. That's right, Kayla Rae was waiting up at the hotel, and surely she wanted an explanation why he didn't arrive until 7:00 AM? Fighting legend Renzo Gracie has publicly claimed to have knowledge that Lochte came up with the story to avoid a fight with Kayla.
This amounts to nothing more than "he said, she said", but it's perhaps more plausible than a robber who didn't take any wallets or phones. If the boys really were out at a brothel, they should have just used the same story as the USA men's basketball team: "OOPS!", "we had no idea this wasn't a day spa."
---
Check out the Iceman's Premium Picks