Schule's NCAAF Weekly Power Rankings Review – Week 9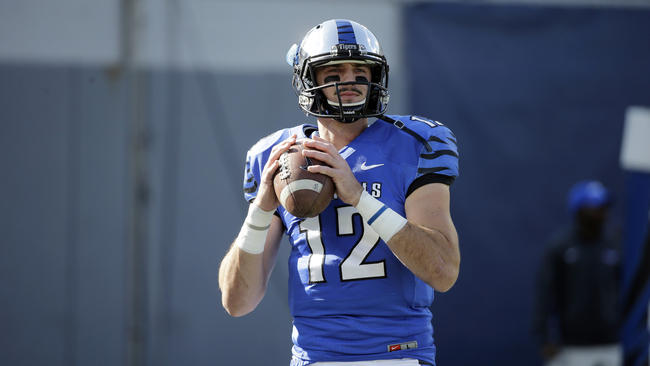 October 28th, 2015
Have you ever noticed that all the major polls look basically the same? Whether it's USA Today, ESPN or the Associated Press, you won't see any dramatic differences in where they have teams ranked. When it comes to Power Rankings, professional handicapper Jesse Schule has proven to be ahead of the curve. Since the 2011 football season he's been going against the grain, and more often than not he's 2-3 steps ahead of the other guys. His weekly NCAAF Power Rankings are published at Covers.com on Mondays, and every Tuesday he will review the teams that he believes are overrated, underrated, or flying under the radar.
Most Overrated Team – Houston Cougars (7-0 SU, 5-2 ATS)
The Cougars are having their way with the minnows of their conference, but let's face it, their schedule is a bit of a joke. Last week they cruised to 59-10 win over Central Florida, a team that is now 0-7 on the season. It wasn't their first win against a team with a losing record, in fact all seven of Houston's wins have come against teams that are currently below .500. They are 4-0 against AAC teams, but those four opponents have a combined conference record of 1-13. They gave up a combined 52 points in their wins over SMU and Tulsa, who are both 0-3 in conference play. Their schedule will get a whole lot tougher real quick, facing Vanderbilt, Cincinnati and Memphis over the next three weeks. I wouldn't be at all surprised if they drop at least two of those three games.

Most Underrated Team – Memphis Tigers (7-0 SU, 4-2-1 ATS)
The Tigers are one of three undefeated teams in the AAC, but unlike Houston, Memphis has actually played a handful of quality opponents. Their most impressive victory came at home against the Ole Miss Rebels by a score of 37-24. The Tigers junior quarterback Paxton Lynch has been shredding opposing defenses, throwing for 2366 yards with 17 TDs and just a single interception so far. Memphis boasts the nation's #3 ranked scoring offense, averaging 48 points per game. While I don't consider Temple and Houston legitimate playoff contenders, I think this Memphis team has a shot to run the table, forcing the committee to make a tough decision on an undefeated AAC team with a respectable schedule.

Flying Under The Radar – Pittsburgh Panthers (6-1 SU, 5-2 ATS)
The Panthers sit in first place in the ACC Coastal with a 6-1 overall record and a conference mark of 4-0. Their only defeat came by just a three point margin on the road at Iowa, against a Hawkeyes team that remains undefeated at 7-0. The bookmakers don't appear to be impressed with Pittsburgh's 6-1 record, as they are listed a three-point dog at home to North Carolina on Thursday night. Both teams are 6-1 overall, and they have played several common opponents with similar results. The one thing that stands out to me though is that Pittsburgh has played five of it's seven games on the road, while North Carolina has played six of it's seven games at home.
---
Check out the Iceman's Premium Picks